click here to hear Whoopi Goldberg discuss the possible ramifications of gum disease.
Gum disease is the single greatest cause of tooth loss in the developed world. It has been scientifically linked with significantly higher rates of heart disease, diabetes, premature birth, prostate cancer and lower birth weight births. It will affect 4 out of every 5 adults at some time during their lives.
At Quirke Dental Surgeons, we take gum disease very seriously. All of our patients are screened for evidence of gum disease, and if such evidence is found, we recommend a course of treatment to control the disease. This may involve one or several visits to our Practice hygienist. Treatment can be carried out using anaesthesia as appropriate.
Gum disease describes swelling, soreness or infection of the tissues supporting the teeth. This can be inflammation of the gums (gingivitis) or a more severe form (periodontal disease).
Periodontal Disease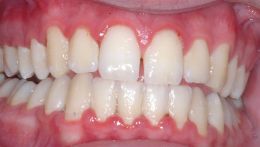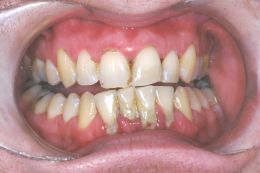 Bacteria found in plaque produces toxins or poisons that irritate the gums, which may cause them to turn red, swell and bleed easily. If this irritation is prolonged, the gums separate from the teeth, causing pockets (spaces) to form. As periodontal diseases progress, the supporting gum tissue and bone that holds teeth in place deteriorate. If left untreated, this leads to tooth loss.
Some people are more likely to have periodontal disease than others:
Crooked teeth are more difficult to keep clean so you might have gum disease in just one part of your mouth.
People have different bacteria in their mouths. This may explain why gum disease can get worse very quickly for some people but not for others.
Smoking and drinking a lot of alcohol can make gum disease worse. Both are also linked with mouth cancer.
Drugs and medicines can affect your gums so your dentist will ask you about your general health.
Diabetes and some other diseases can reduce how resistant gums and bones are to damage.
Hormonal changes also affect gum health. It could make a difference if you are pregnant or using an oral contraceptive.
Preventing Gum Disease
The best way to prevent gum disease is effective daily brushing and flossing as well as regular professional examinations and cleanings. Unfortunately, even with the most diligent home dental care, people still can develop some form of periodontal disease. Once this disease starts, professional intervention is necessary to prevent its progress.