Case recently published on www.6monthsmiles.com
Top Stories from the Six Month Smiles Provider Community
Maintaining and Managing Realistic Expectations for your Patients
– Case Study by Dr. Maurice Quirke
J***** is a 35 year old regular patient of the Practice and after some prompting from my team, decided she wanted to investigate treatment options to improve her smile, specifically her upper canines which she described as 'fangs'. She decided to pursue Six Month Smiles in both arches with a view to achieving a better appearance.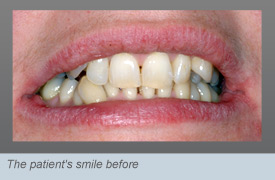 Our treatment goals were to level and align the anterior segments, creating a more symmetrical and harmonious smile in the process. We gave some thought to the possibility of a lower incisor extraction in order to help relieve the crowding in the lower arch but we decided that there was considerable scope for rounding out and additional space could be gained by moderate IPR in the lower arch. We estimated the treatment time at 8-9 months.
Following bracket placement, mild IPR was performed on the upper anteriors and the lower first premolars and anteriors with bite guards placed on the upper first molars. 0.014 arch wires were placed, with quickties on several teeth.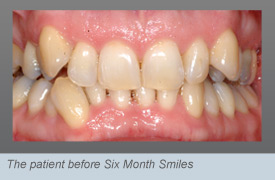 We then reviewed J***** every 4 weeks, moving to 0.016 archwires on month 1 and 0.018 on month 3 with selective IPR as required. The bite guards were removed on month 2 and PBE was used to refine the posterior occlusion for a couple of months.
The biggest challenge encountered was in rotating the lower right canine while also trying to upright it. This was achieved by a combination of rotation bumps, quickties and powerchain involving all teeth from the lower right canine to the lower left molar and judicious IPR. The final 2 months of treatment were performed using 0.022 x 0.016 rectangular wires.
At 8 months and 1 week we debonded, placed bonded retainers and also fitted Essix retainers. We then proceeded to whiten J*****'s teeth moving from D2 to B2 over the next few weeks. We used whitening trays rather than the Essix retainer for this with J***** wearing the whitening trays for 4 hours each evening before moving into the Essix retainer overnight.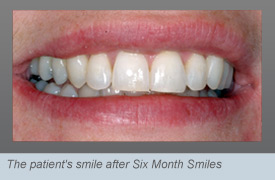 J***** has never been the most outgoing of individuals but is delighted with her new smile and seems to have developed a greater degree of self-confidence since treatment was completed. The final result is one we believe we can be pleased with.
It's possible that J*****, being rather shy, may have continued with the arrangement that she had indefinitely unless we had regularly asked the question "Are you happy with the appearance of your teeth and gums?" at her periodic examinations.
Look at the amazing improvement in this smile following 6 Month Smiles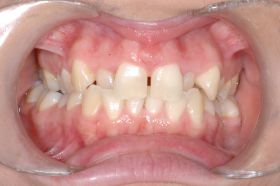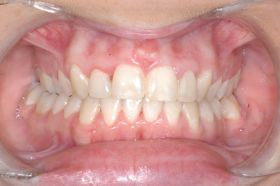 This patient wanted a solution for his crowded smile and 6 Month Smiles delivered just the solution he wanted.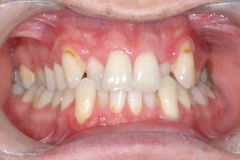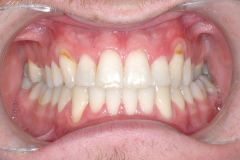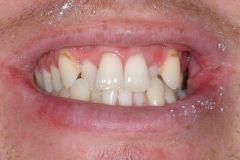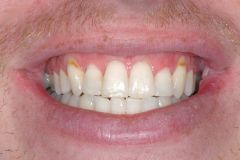 This patient wondered if we could improve her smile. We made a huge improvement in 8 months of treatment with 6 Month Smiles.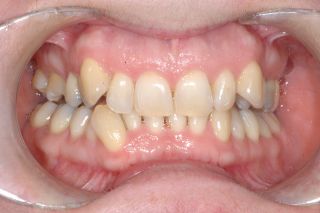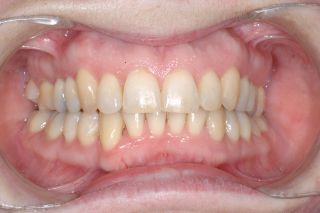 This patient came to us seeking a solution to her crooked and crowded teeth. We used 6 Month Smiles over a period of 6 months to provide this dramatic improvement and the patient is delighted with her new appearance.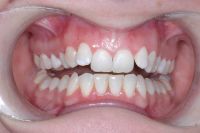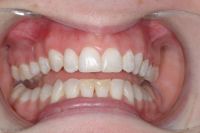 This patient had a dark tooth following trauma and requested a crown. We treated this conservatively using a whitening technique and achieved this appearance within 2 weeks


This patient came to us requesting treatment to get rid of her spaced front teeth. We corrected this conservatively and quickly using bonding. The patient is delighted with the result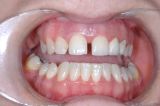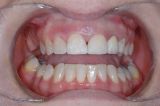 This patient also came to us asking about porcelain veneers to treat the spaced front teeth. We decided to treat this conservatively using bonding and this patient is also delighted with what was achieved.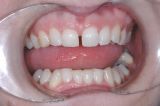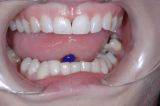 This patient had severe tetracycline staining and chipped front teeth. This was treated using a combination of whitening and bonding. The improvement has been dramatic.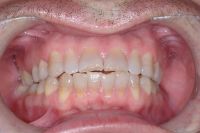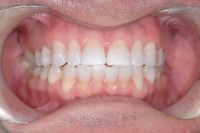 This patient complained of the appearance of his front teeth. We treated this over a period of 6 months with 6 Month Smiles, cosmetic orthodontics, and have achieved a result that the patient is very pleased with.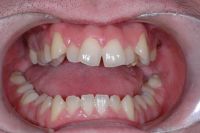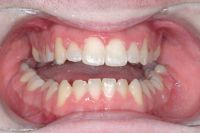 Another 6 Month Smiles case with a great result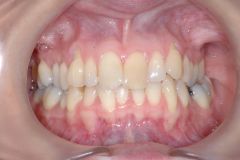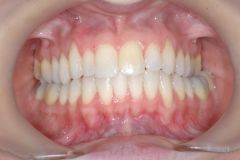 Porcelain veneers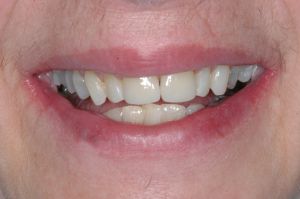 more cases shortly, it takes us some time to upload them.