Crowns can be made from a variety of different materials, we will discuss which type is best for you.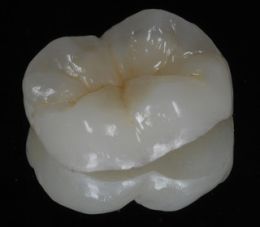 Procedure:
Before the process of making your dental crown is begun your dentist will anesthetize (numb) both your tooth and the gum tissue which lies around it.
In order to have adequate strength and, in the case of porcelain type crowns, proper aesthetics, a dental crown must possess a certain minimal thickness. Your tooth in turn must be reduced by this same amount so once the crown is cemented into place on your tooth will not be oversized. In most cases the minimal crown thickness that is required will be approximately two millimeters.
Once your tooth has been shaped appropriately most dentists will need to make a copy of it by taking an impression. This impression will then be sent to a dental laboratory where a dental technician will fabricate your crown so it fits accurately on your tooth. The amount of time required to fabricate dental crowns is usually about 2-3 weeks, during which time your tooth will be covered over by a temporary dental crown.
However, at Quirke Dental Surgeons we have invested in CEREC technology which allows us to create your ceramic crown while you wait right here in the Practice so that you don't have to be bothered with a temporary crown, messy impressions, further numbing and a return visit thus saving you considerable time.
When the crown is ready to be fitted, we will check to make sure that the fit is correct, and that the shape and colour of the crown matches your own teeth. Once the crown is bonded into place, final adjustments are made and the procedure is now complete.
Hover over picture to see change